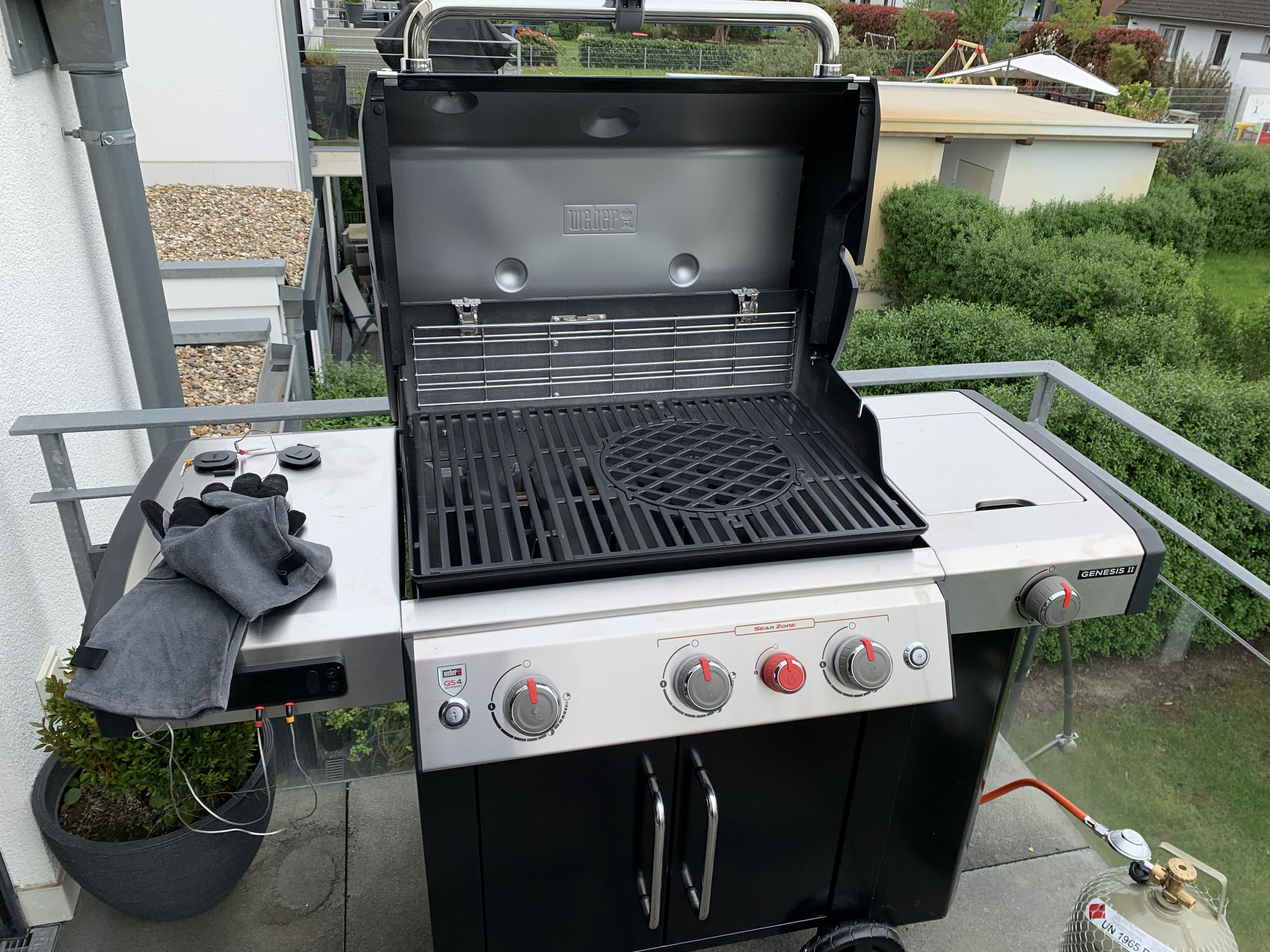 So I decided to replace my Weber Spirit Original E-210 with a new BBQ station to add quite a bit more BBQ action into my life. The Spirit was my first gas grill and did an excellent job for a "first gas grill". However, for things like longjobs1 — expecially if you have guests — I considered two zones as a potential bottleneck. As usual I just started a quick study on what is currently available on the market. What then happened is probably quite familiar for many of you. You do a bit of research for a suitable replacement and the next thing you see is yourself in is the checkout process of an online store…
Anyhow, in the end I decided to go for a Weber Genesis II EX-335. There were a couple of reason for my choice but in the end they got me with the four zones, the side burner, storage room below the grill and I was curious to find out what makes a grill "smart" according to Weber. In the following you will find some notes on things I consider as good to know (in advance) as well as some remarks on my first impression.
Delivery & Assembly
Same as the Spirit the Genesis grill is delivered on an EUR-pallet when purchased via the online shop of Weber. Time from ordering online to delivery was about nine days but may be shorter (or longer) depending on your location.
The grill is delivered mostly in parts and must be fully assembled before it can be used. What I really like is that they preassemble most parts of the gas supply. While this does not(!) make the leakage check superfluous it is still a good contribution to reduce the number of accidents caused by gas leakages. Weber also offers a pre-built service which might be good option for those of you that are not so much into turning screws and building stuff together. However, since I love piping and building up things my choice was quite clear.
The setup was easy for me and the manual was helpful. As expected the Genesis did feature a decent build quality and the building materials made a good first impression. Of course time has to show whether the materials are really good but considering the experience made with the Spirit I'm quite optimistic.
Smart features
Weber claims that the Genesis is a smart grill. My impression is that smart refers to the included Weber Connect Hub which features ports for two temperature sensors. A third sensor is placed slightly above the grill and has replaced the analog lid thermometer. The hub itself features WLAN and Bluetooth connectivity and can be controlled via an app on a smartphone.
Every device should be ready for usage out of the box and shall not force the user to perform any time consuming tasks prior usage.
As mentioned I was quite curious about what "smart" means for a grill so I gave the app a quick shot. Connecting via Bluetooth worked suprisingly well — yes I tend to be sceptical — and here we… Nope. Instead of being ready for usage I was immediately asked to perform a firmware update. I'm not a fan of forced updates. Neither for hardware nor for software. Both have to work out of the box, especially something uncritical like a hub for temperature sensors. Anyhow the first upgrade attempt failed after about ten minutes. The second attempt succeeded and I was finally able to monitor temperatures.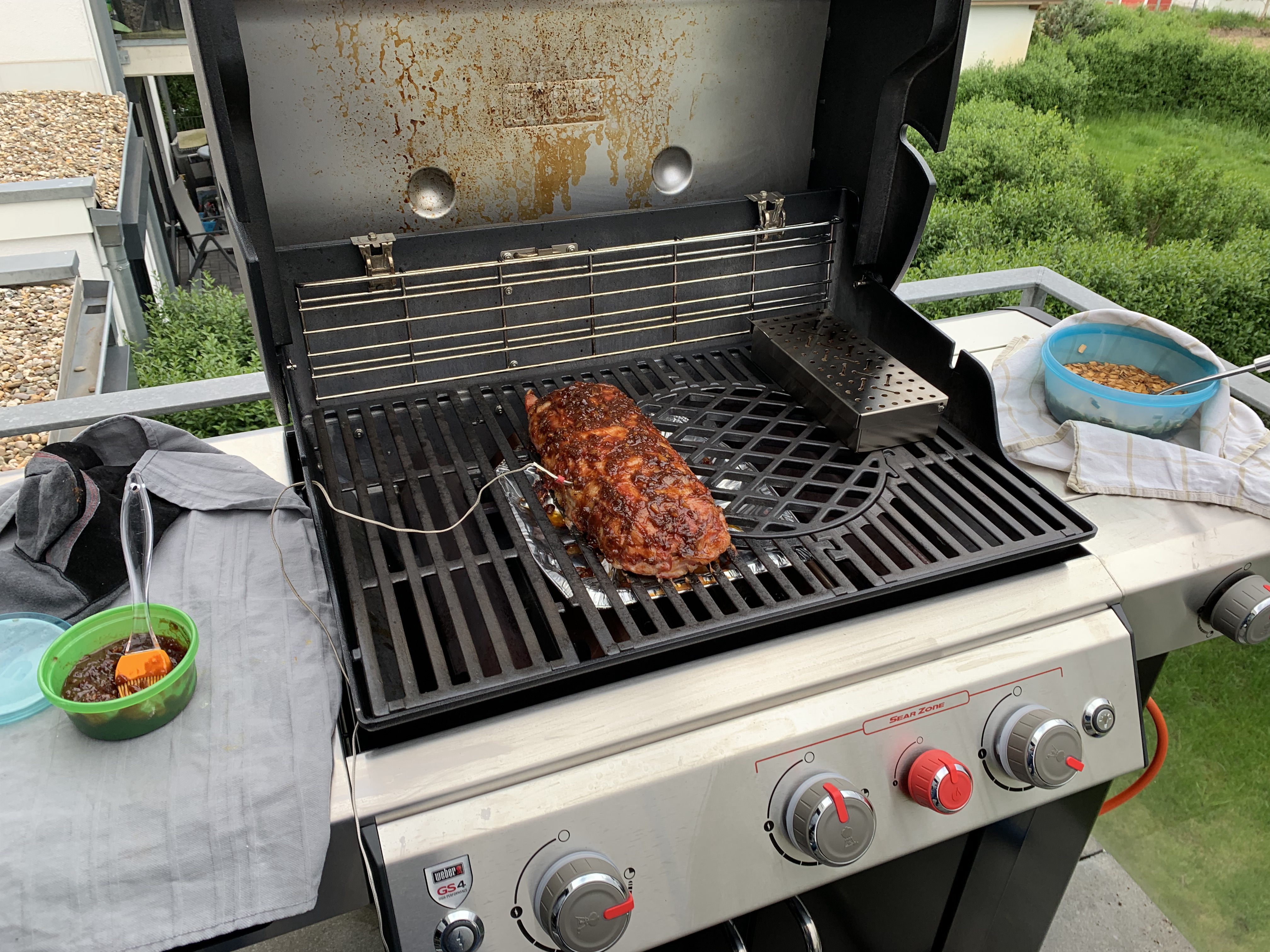 Once ready for use the Weber Connect Hub is basically an app connected temperatur sensor up as it can be purchased from various vendors. The hub worked quite for grilling steaks and a bacon bomb. What I liked is that you get a push notification on your smartphone (and smartwatch) nearly immediately once the set temperature is reached as well as the integration right into the grill. The hub is a nice feature but after all nothing too surprising and "smart" seems to be a bit over the top.
WLAN connectivity
The Genesis II EX-335 features WLAN connectivity which is part of the Connect Hub and dedicated to extend the range for use with the Weber Connect App. During setup I learned two things: The hub supports 2.4 GHz frequencies and channels 1-12 only.
General impression / Further remarks
In a nutshell Weber's Genesis II EX-335 does a decent job for preparing all kind of dishes you can think about. During the last weeks I've tried all kind of things and the three zones plus the add. burner (sear zone) performed as expected. In comparison to the old Spirit it felt like a true upgrade.
However, as for every piece of hardware there are ways to improve. First of all for a device that claims to be smart 5 GHz WLAN support is a must. Another plus would be the add. of a gas tank scale. The scale is part of the version sold on the US marked but on the German market it is not part of the grill. Of course this is not critical since it is in general highly recommended to have a second gas bottle on standby but it still remains a useful feature.
---
A longjob is any kind of dish that is prepared on a grill, smoker etc. that takes several hours to complete. For me this is everything that takes longer than 3h. Common examples are pulled pork or ribs. ↩︎